Speak Up For Your BUSINESS – public speaker training for women entrepreneurs and women who want to get ahead at work (Brought to you by Speak Up Like A DIVA)
Have you been putting off your business spotlight talk for too long???
WORKSHOP FOCUS:
1. CREATE A GREAT 10 MINUTE PRESENTATION TO PROMOTE YOU AND YOUR BUSINESS
2. PRACTISE YOUR PRESENTATION AND GET FEEDBACK FROM THE GROUP

3. LEARN HOW TO EXTEND YOUR PRESENTATION TO FIT LONGER SPEAKING SLOTS
4. RECOGNISE THE TWO MOST POPULAR TYPES OF BUSINESS NETWORKING PRESENTATION AND WHICH ONE BEST SUITS YOUR BUSINESS OBJECTIVES

5. LEARN SLIDE BEST-PRACTICE – NO MORE DEATH BY POWERPOINT!
AND…
If you feel you need additional 121 personalised training you can book an add-on Skype laser coaching session with Shola to help you fine-tune your presentation.
And you'll also receive these great bonuses!
BONUS 1: All participants will receive a complimentary PDF copy of the Amazon.com bestselling book, How to be a DIVA at Public Speaking.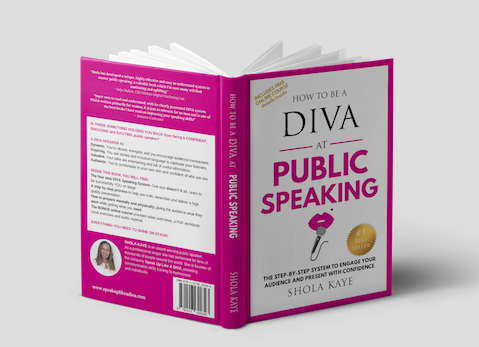 BONUS 2: All participants will gain access to the online 3-part video series: How to Prepare your Speech
PLUS: If you opt for the ADD-ON LASER COACHING SESSION you will receive a 20 minute private Skype coaching session with Shola. We'll fine-tune your presentation and you'll receive a written assessment, using the DIVA framework, that you can keep and use every time you speak.
And…a £30 Discount for all WIBN members
Find out more, watch testimonial videos and book on EVENTBRITE
Trainer, Shola Kaye, has been featured in Woman and Home, Marie Claire, Prima and more. All levels are welcome and it's a warm and friendly environment.